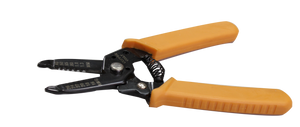 22-30 AWG Wire Stripper Wire Stripping Tool
22-30 AWG Wire Stripper Wire Stripping Tool, Wire Crimper And Multi-Function Hand Tool,Professional Handle Design And Refined Craftsmanship
Light weight, small, comfortable hand grip

High quality steel

WIRE STRIPPER:Ideal for copper and aluminum cables from 22-30 AWG.Built in wire cutter.

Handle is made of PP+TPR material, comfortable hand feeling, ergonomically design and optimal force-transmission. Best for working with wet & oily hand.

SIMPLE OPERATION:Simple one-handed motion grabs, holds, pulls and removes outer jacket makes clean cuts on wires.